This article is a stub! More information should be added whenever possible!
Pistachio ice cream or pistachio nut ice cream is an ice cream flavour made with pistachio nuts or flavouring. It is often distinctively green in color. Pistachio is also a flavour of sorbet and gelato. Pistachio ice cream is a layer in spumoni.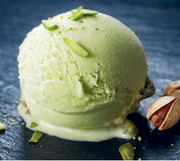 Ad blocker interference detected!
Wikia is a free-to-use site that makes money from advertising. We have a modified experience for viewers using ad blockers

Wikia is not accessible if you've made further modifications. Remove the custom ad blocker rule(s) and the page will load as expected.