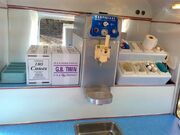 An 
ice cream van
 (
British
) or 
ice cream truck
 (
American
) is a 
commercial vehicle
 that serves as a mobile 
retail
 outlet for 
ice cream
, usually during the summer. Ice cream 
vans
 are often seen parked at public events, or near 
parks
, 
beaches
, or other areas where people congregate. Ice cream vans often travel near where children play — outside 
schools
, in 
residential
 areas, or in other locations. They usually stop briefly before moving on to the next 
street
.
Most ice cream vans tend to sell both pre-manufactured ice pops in wrappers, and soft serve ice cream from a machine, served in a cone, and often with a chocolate flake (in Britain) or a sugary syrup flavoured with, for example, strawberry. Soft serve ice cream is served topped with sprinkles for a slight extra charge. While franchises or chains are rare within the ice cream truck community (most trucks are independently owned/run), some do exist.
Early ice cream vans carried simple ice cream, during a time when most families did not own a freezer. As freezers became more commonplace, ice cream vans moved towards selling novelty ice cream items, such as bars and popsicles.[2] Early vans used relatively primitive techniques: their refrigeration was ensured by large blocks of dry ice so the engine was always turned off when the van was stopped for sales. The chimes were operated by a hand driven crank or a take-off from the engine, so they were not heard as often. Modern chimes are always electrically operated and amplified.