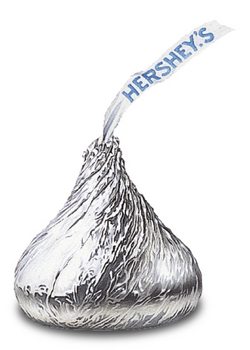 Hershey Kisses came out in 1907, later becoming extremely popular. The reason behind the "kisses" part of the name is because of the sound the machines make when manufacturing the Hershey Kisses. They are typically used as a topping in ice cream cups.
Types
There are nine kinds of Kisses
Milk Chocolate
Filled With Caramel
HUGS
Milk Chocolate With Almond
Special Dark
Pink Kisses
Cherry Cordial
Filled With Peanut Butter
Truffle
Ad blocker interference detected!
Wikia is a free-to-use site that makes money from advertising. We have a modified experience for viewers using ad blockers

Wikia is not accessible if you've made further modifications. Remove the custom ad blocker rule(s) and the page will load as expected.