This article is a stub! More information should be added whenever possible!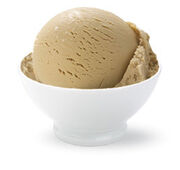 Coffee ice cream
is a recently-made flavour of ice cream, they come in different forms containing a slight amount of caffeine. It tastes like coffee, but is edible by pre-teens and above.
Ingredients
1 cup whole milk
3/4 cup of granulated white sugar
1.5 tablespoons of instant coffee
2 cups heavy cream
2 teaspoons of vanilla extract
Ad blocker interference detected!
Wikia is a free-to-use site that makes money from advertising. We have a modified experience for viewers using ad blockers

Wikia is not accessible if you've made further modifications. Remove the custom ad blocker rule(s) and the page will load as expected.