Cheese ice cream is ice cream flavoured with cheese. It is very popular in the Philippines.
Recipe
Ingredients
8 oz cream cheese, softened
1 cup milk
1 tablespoon fresh lemon juice
3/4 cup sugar
1/8 teaspoon salt
1/2 cup heavy cream
Special Equipment: Ice Cream Maker
Directions
Blend cream cheese, milk, lemon juice, sugar, and salt in a blender until smooth. Transfer to a bowl, then stir in cream. Freeze cream cheese mixture in ice cream maker. Transfer to an airtight container and put in freezer to harden, at least 2 hours. Let ice cream soften 5 minutes before serving.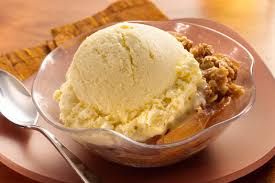 Ad blocker interference detected!
Wikia is a free-to-use site that makes money from advertising. We have a modified experience for viewers using ad blockers

Wikia is not accessible if you've made further modifications. Remove the custom ad blocker rule(s) and the page will load as expected.