Butter Pecan is a type of ice cream. It can be Sugar Free, or not. As the name suggests, there are pecans, in a mixture of butter, and ice cream. It was originally created as an Ice Cream that was butter, and milk only. Apparently, but not yet proven, pecans fell in the mixture, and it was so popular, that is how we got Butter Pecan.
Information
Butter pecan is a flavor, prominent especially in the United States, in cakes, cookies, and ice cream. Roasted pecans, butter, and vanillaflavor are used in butter pecan baked goods. Butter pecan ice cream is smooth vanilla ice cream with a slight buttery flavor, with pecans added. It is manufactured by many major ice cream brands. A variant of the recipe is butter almond, which replaces the pecans withalmonds.
Butter Pecan is a popular flavor of ice cream produced by many companies and is also one of the thirty-one flavors of Baskin Robbins. [1]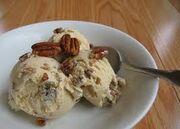 Ad blocker interference detected!
Wikia is a free-to-use site that makes money from advertising. We have a modified experience for viewers using ad blockers

Wikia is not accessible if you've made further modifications. Remove the custom ad blocker rule(s) and the page will load as expected.